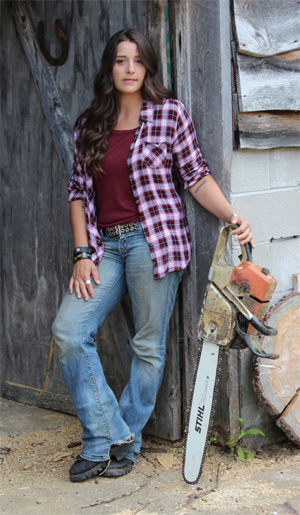 Sara Wojtowecz
Adirondack Chainsaw Sculptor
Chainsaw sculpting. Those two words carry such a weight and lightness at the same time. The artform is to me like none other. I start with what mother nature created and then turn it into another creation of itself. At least that is the hope. That is the inspiration behind all my carvings of the heart. I truly believe that in order to be a artist you have to fight and love and have hope and be disappointed and search for that sculpture to come alive to you. The weight of being a sculptor is the simple fact that it is hard work. Physical. Demanding. Competitive. Dirty. All of those aspects are what continuously drives me to continue creating, continue learning and aspiring to be more. To do more. To truly relay what I see in my head into what is actually inside of the wood. That is where the lightness comes into play. When I actually connect my heart and head and my tools together, the outcome is just pure enjoyment of sculpting. Its as though I am at peace. With the saw peeling off layers of what is to be and the air smells of two stroke and wood chips, I feel at home. Those moments do not always come without a fight. They are poignant in that they are fleeting. They are special in that they are rare. It has become my passion, something I intend on doing as long as I possibly can. My history with sculpting is pretty short. I started carving in 2007 and I say carving because I think its a progression from carving to sculpting. Some days I carve and the really good days are when I sculpt.
Today, Sara carves full-time and is also a member of the Chainsaw Chix. The Chix are an all-female carving team that travel and perform the art of chainsaw carving. Sara has had the opportunity to travel to Japan, Australia, Canada and all over the USA. Check the Chix out at www.chainsaw.net.
Sara has been featured in Adirondack Life Magazine as well as appearing on podcasts and in local news stories. Many of her custom pieces are featured at the Saratoga Winery, in Saratoga, NY. It's exciting to see the interest that people have in this unique form of art!
For custom pieces or for more information about having Sara carve at a show, call Northstar at 518.848.8130 or email Sara at sara@northstarsculptures.com.