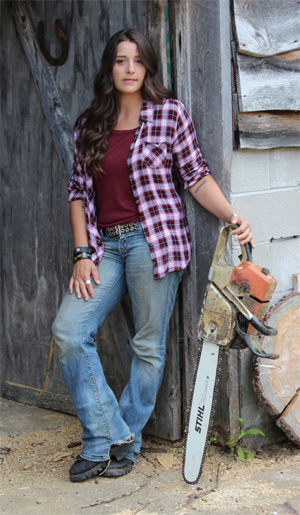 Northstar Sculptures is a creative expression of art that comes from upstate NY native, Sara Wojtowecz. For several years now, Sara has been using a chainsaw to carve big (and little) hunks of wood into beautiful carvings of animals and other unique and beautiful shapes. She began when she saw another carver at a show and became interested in learning more about creating art with an incredibly powerful tool.
Today, Sara carves full-time and is also a member of the Chainsaw Chix. The Chix are an all-female carving team that travel and perform the art of chainsaw carving. Sara has had the opportunity to travel to Japan, Australia, Canada and all over the USA. Check the Chix out at www.chainsaw.net.
When not traveling around the country, Sara gets inspiration from the beauty of her Adirondack mountain surroundings and carves at her home-based shop. Sara has been featured in Adirondack Life Magazine as well as appearing on podcasts and in local news stories. It's exciting to see the interest that people have in this unique form of art!
For custom pieces or for more information about having Sara carve at a show, call Northstar at 518.848.8130 or email Sara at sara@northstarsculptures.com.