Sara enjoys using Stihl brand chainsaws with a variety of bars suited for different purposes.

In order to keep everything running smoothly, Sara uses at least a couple gallons of bar oil every month.

Safety Protection is a Must
When you're around high-powered equipment, proper safety protection is imperative —for legs, eyes and ears.

Sara rocks out to a variety of musical styles whilst carving — it helps encourage her creative process.

How do you see a bear in that log?
Sara begins the process by selecting a log — usually pine, and after checking out all the angles and shapes, she gets a feel for what is inside of it.

First she makes some blocking cuts with a saw with a big bar, and as she continues the process of refining, she switches to a smaller saw with a carving bar that has a pointed tip. You really begin to see the piece take shape at this point.
Sara then uses a power gouge bar for texture, and finishes with a die-grinder and sander where needed. You might see her use a torch to burn the wood for color. Eventually, she will apply a marine spar vanish finish or paint the piece.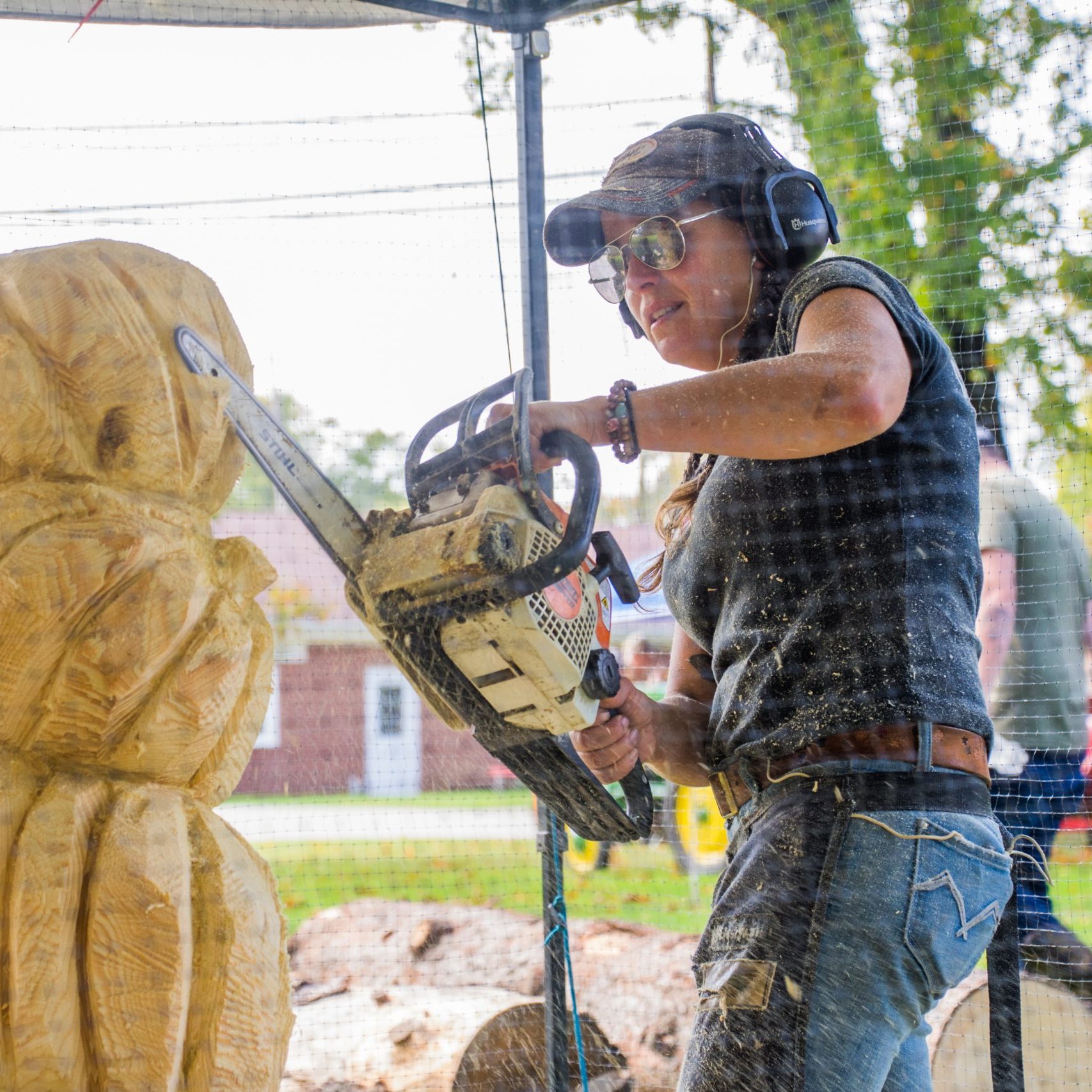 The Creative Process Detailed
A little more information on how it's all done.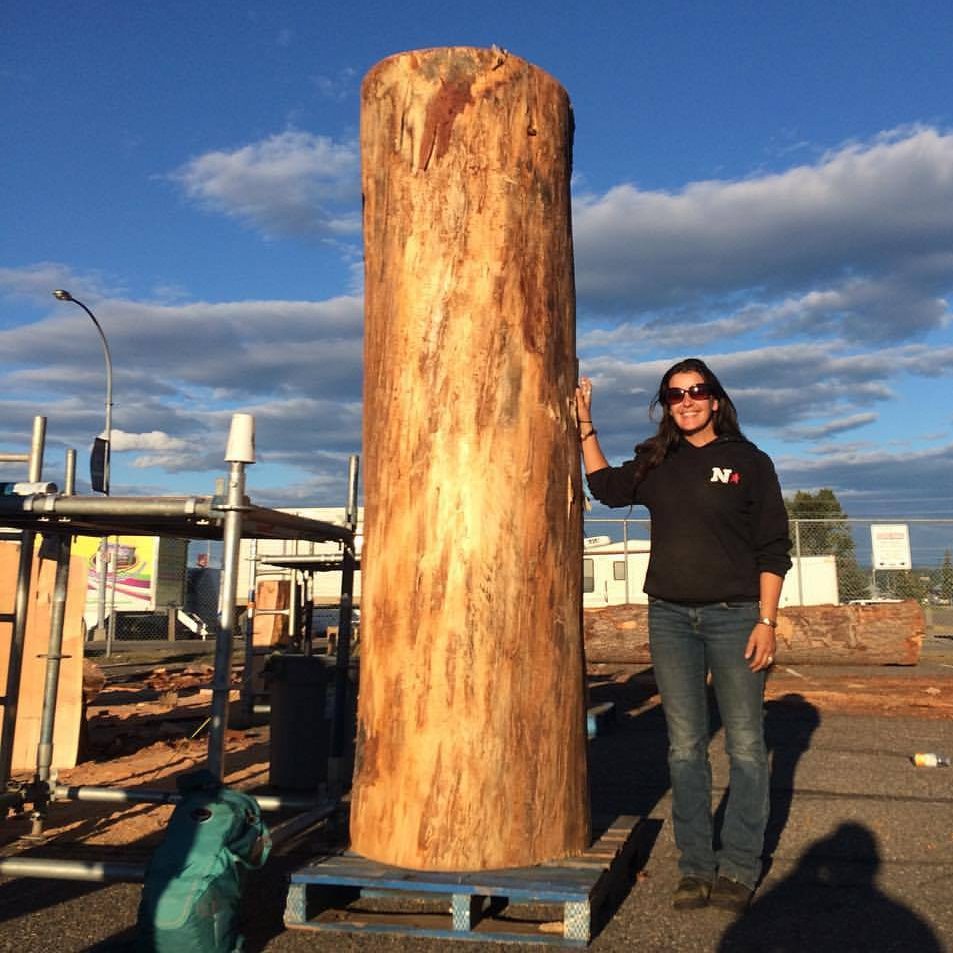 This is how it all starts.
A big log is often how the process begins. What does she see here? Stick around and find out!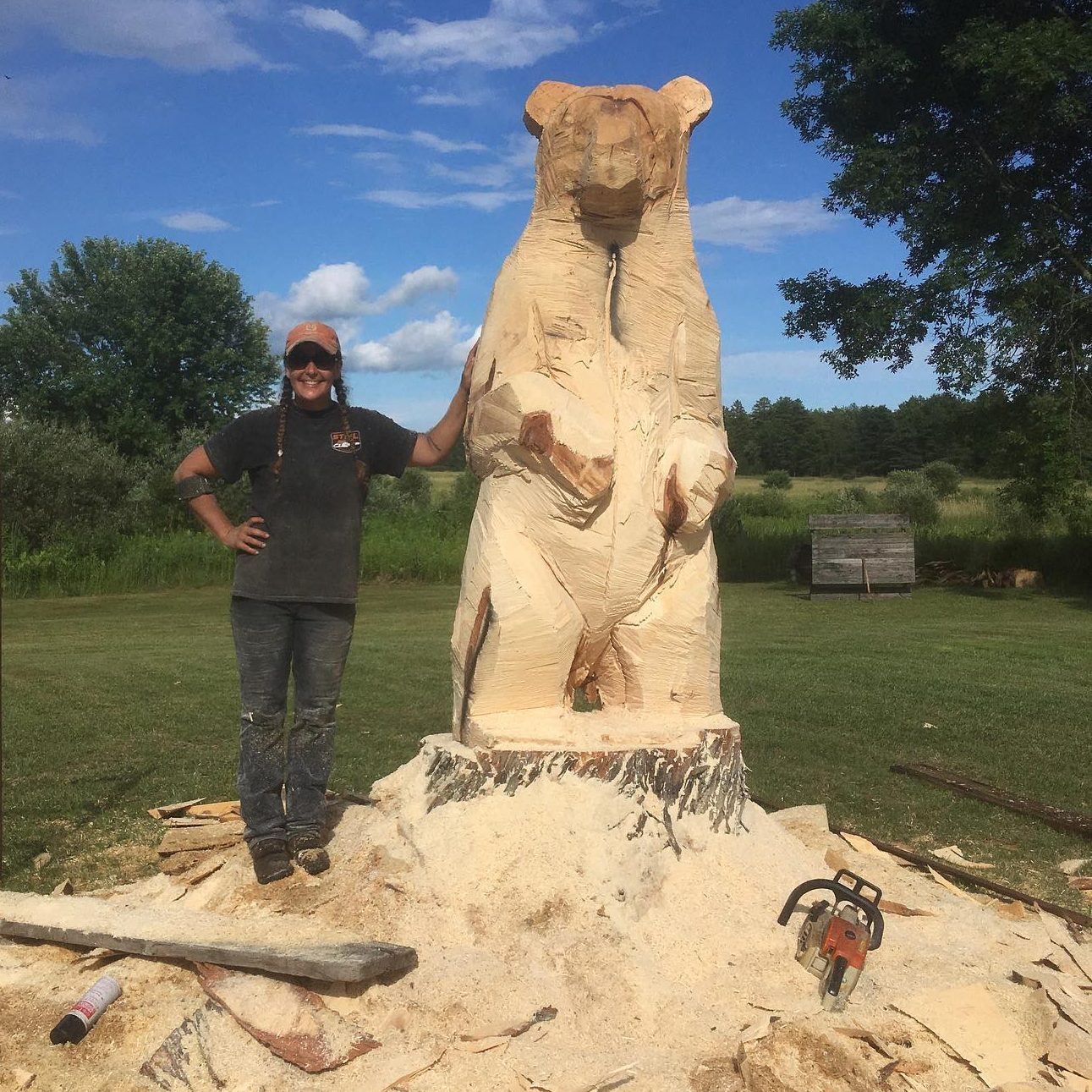 Sara uses a saw with a 20″+ bar to "chase" the various shapes and slices and begin to reveal the overall direction of the piece.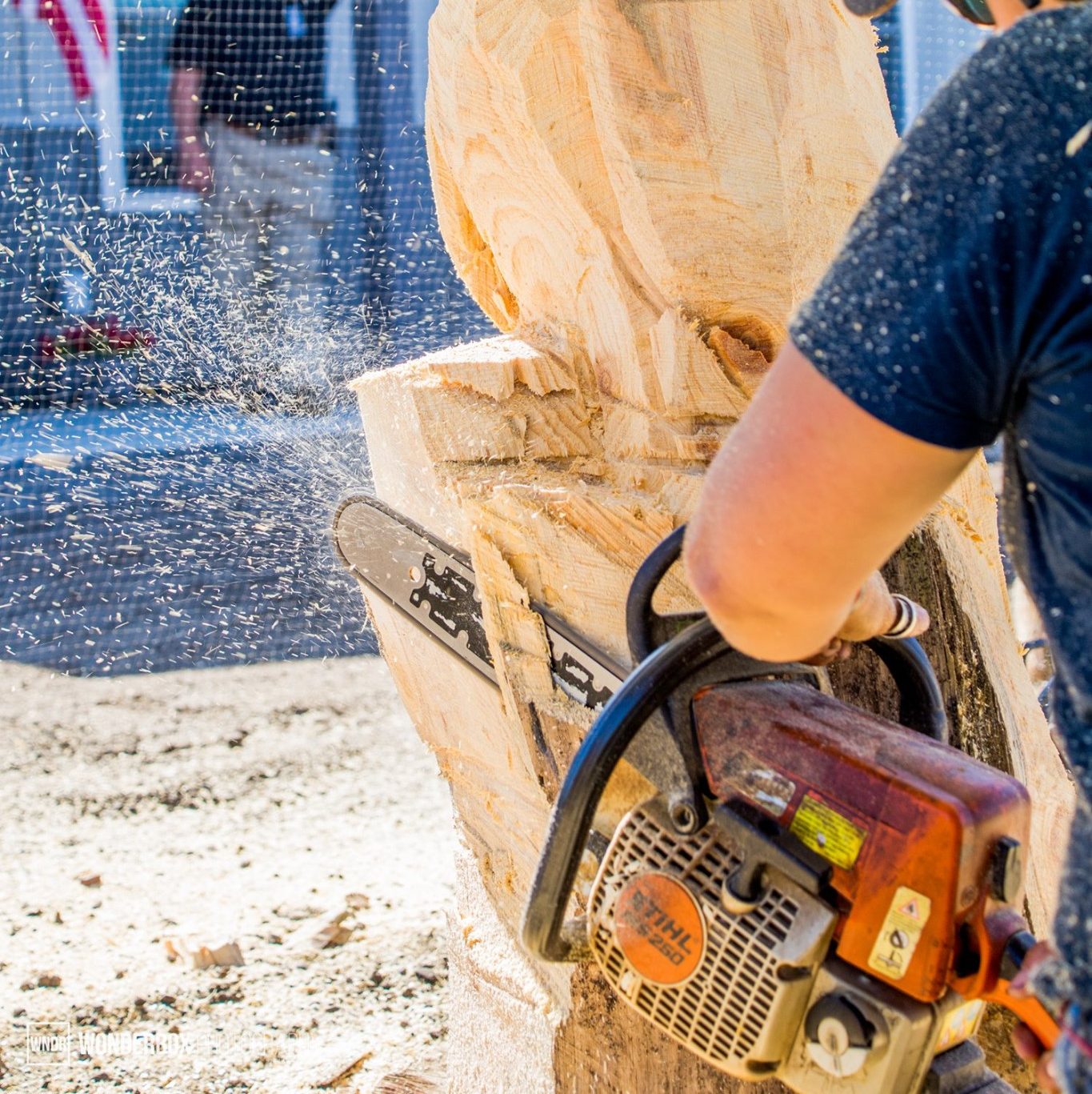 Close up action of the mid-sized saw as Sara begins to define and refine the shape.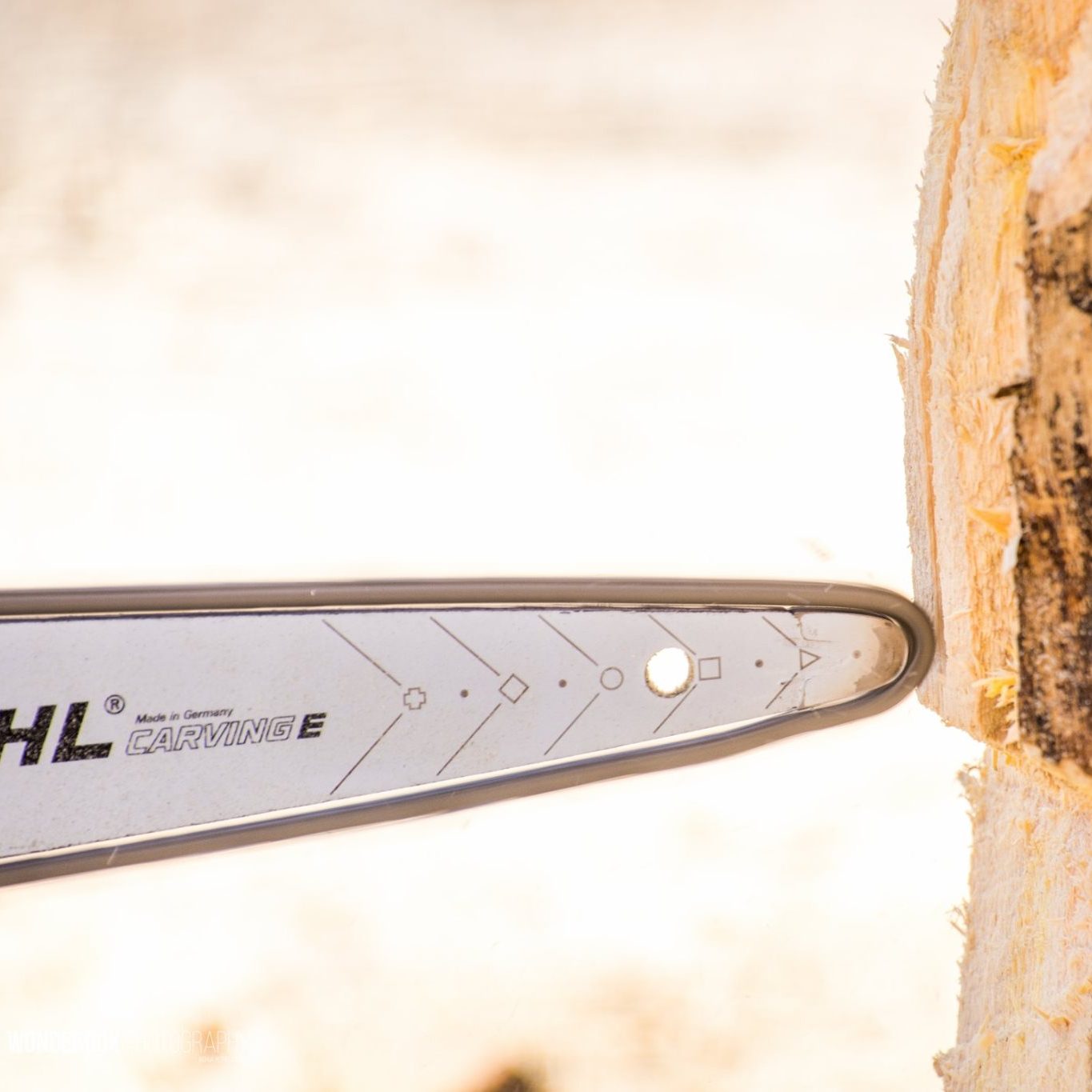 This is called a dime tip because the end of the bar is the size of a dime which allows Sara to fine-tune the elements and details.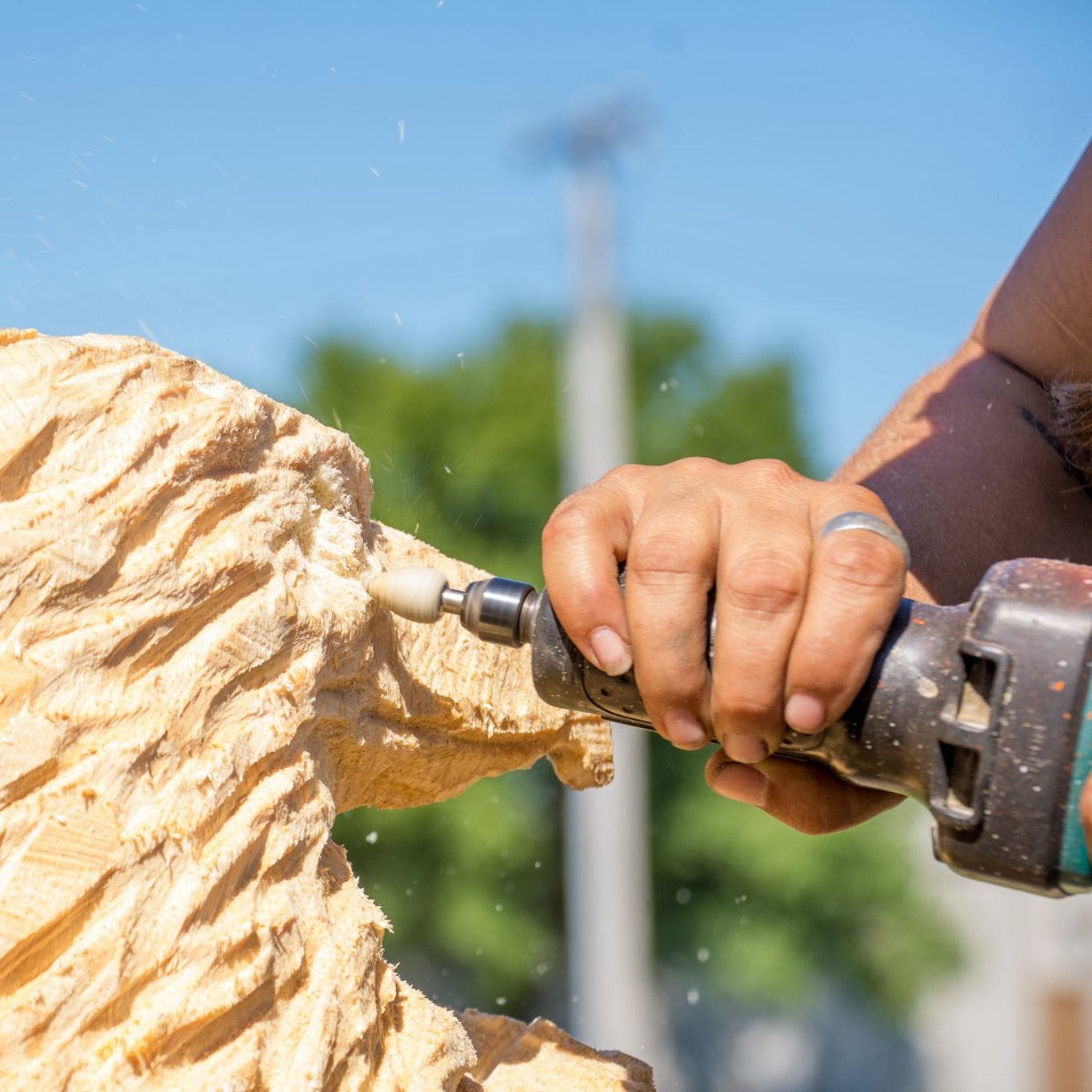 Sara uses a die-grinder tool to refine the chainsaw cuts and reveal the special details in the sculpture.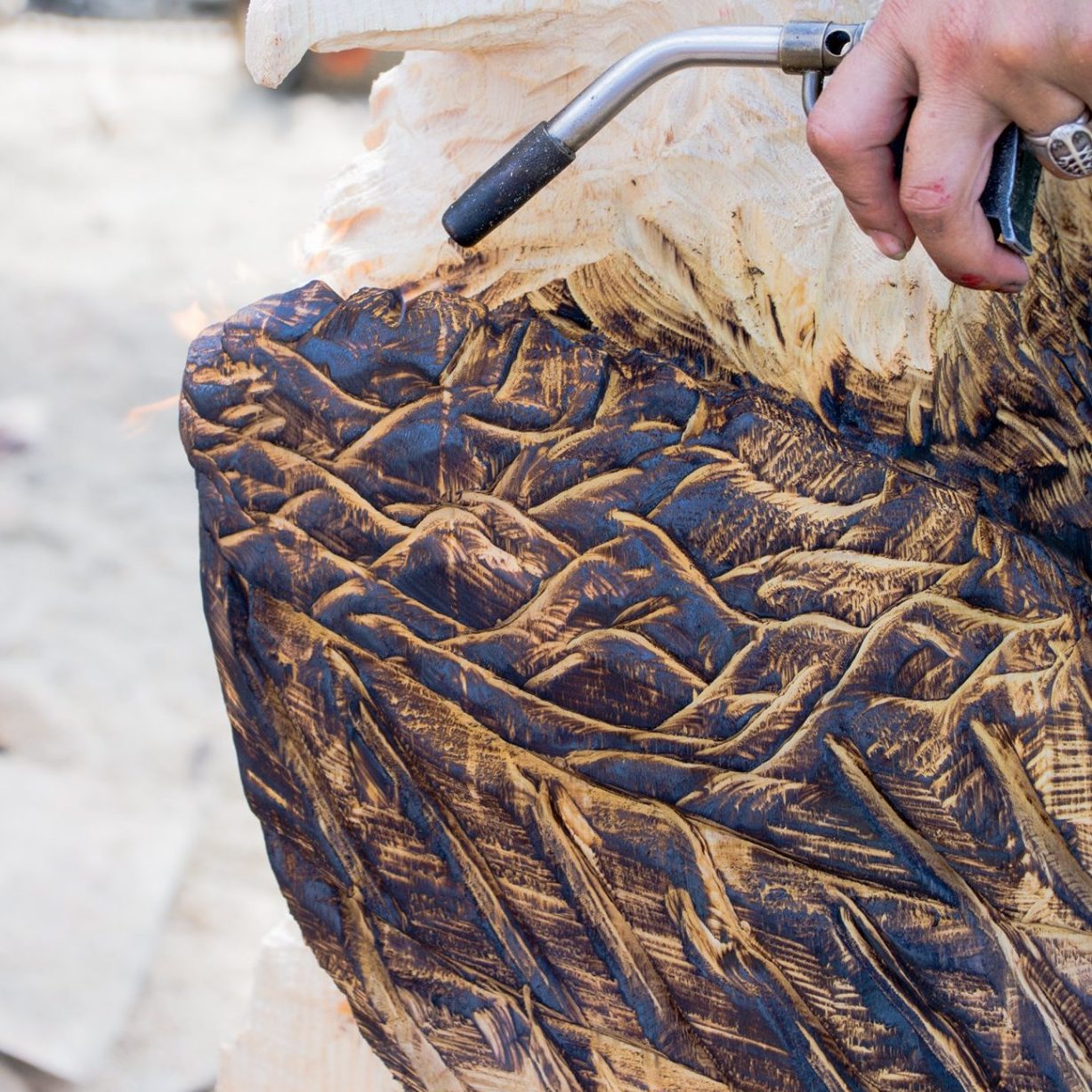 A torch is used to burn the wood and give color, contrast, and show texture, and is then brushed to smooth and soften the piece.

Carving nature is my passion.
Bears, wolves, owls, birds — all the flora and fauna in nature — encompass most of Sara's work. She is always up to a challenge and is willing to work with you to create a custom piece for you. From carving your beloved pet, to creating a bench for your garden, Sara has done some really interesting and unique pieces.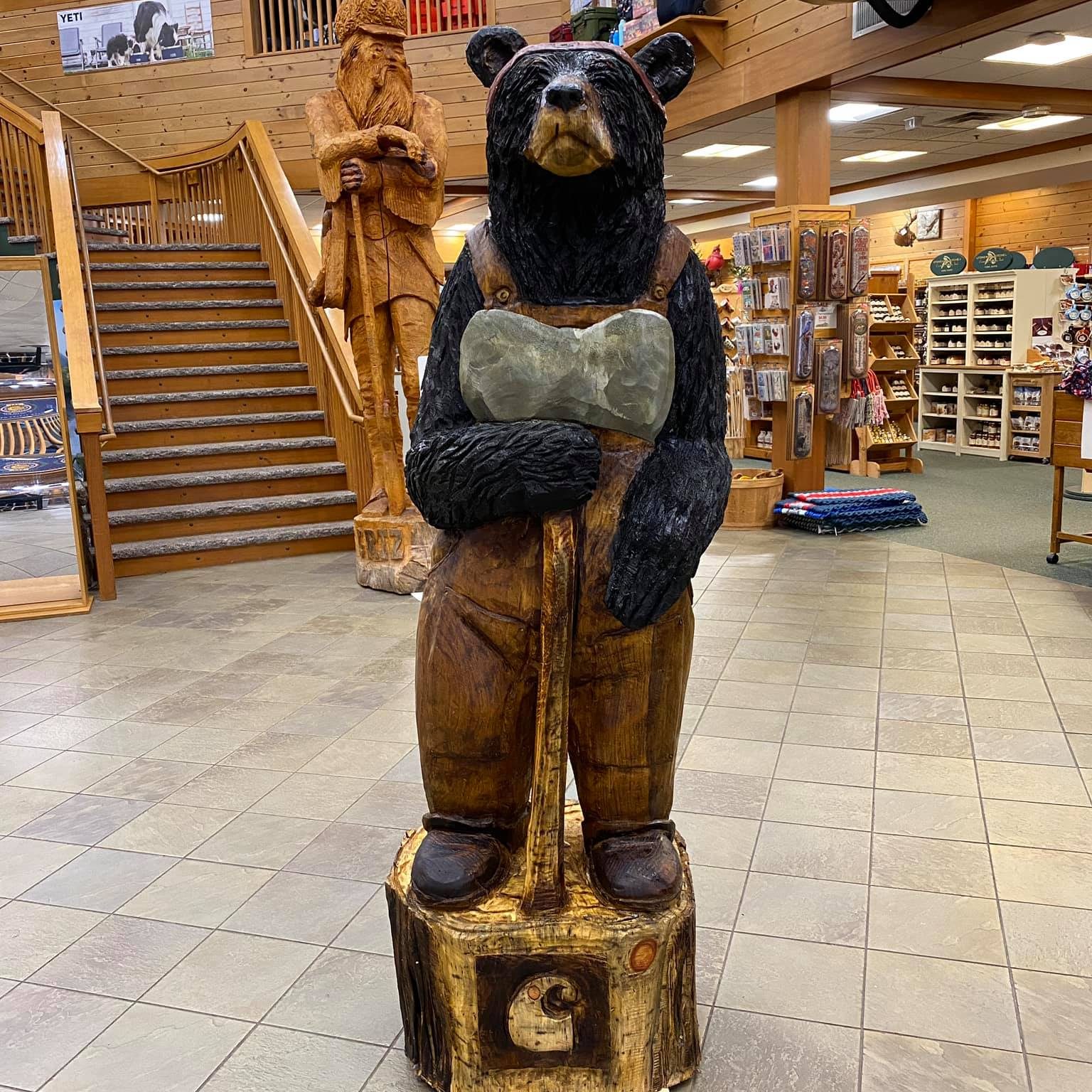 Sara carved this awesome bear holding an axe for Kittery Trading Post in Maine.

Sara was privileged to carve this wolf in Japan at the 2nd Takacho Chainsaw Carving Event.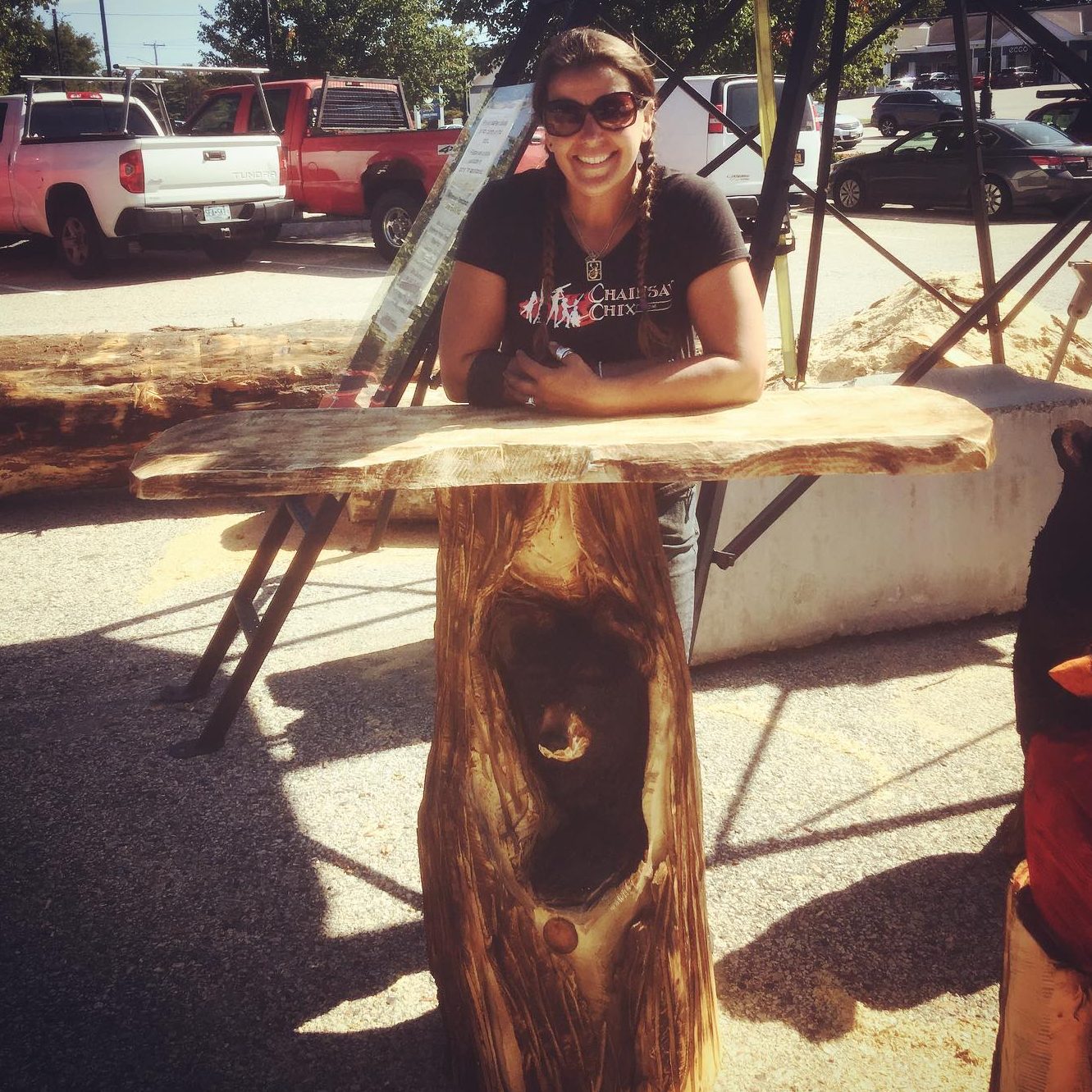 Sara builds these bar height pub tables which can feature a variety of animals.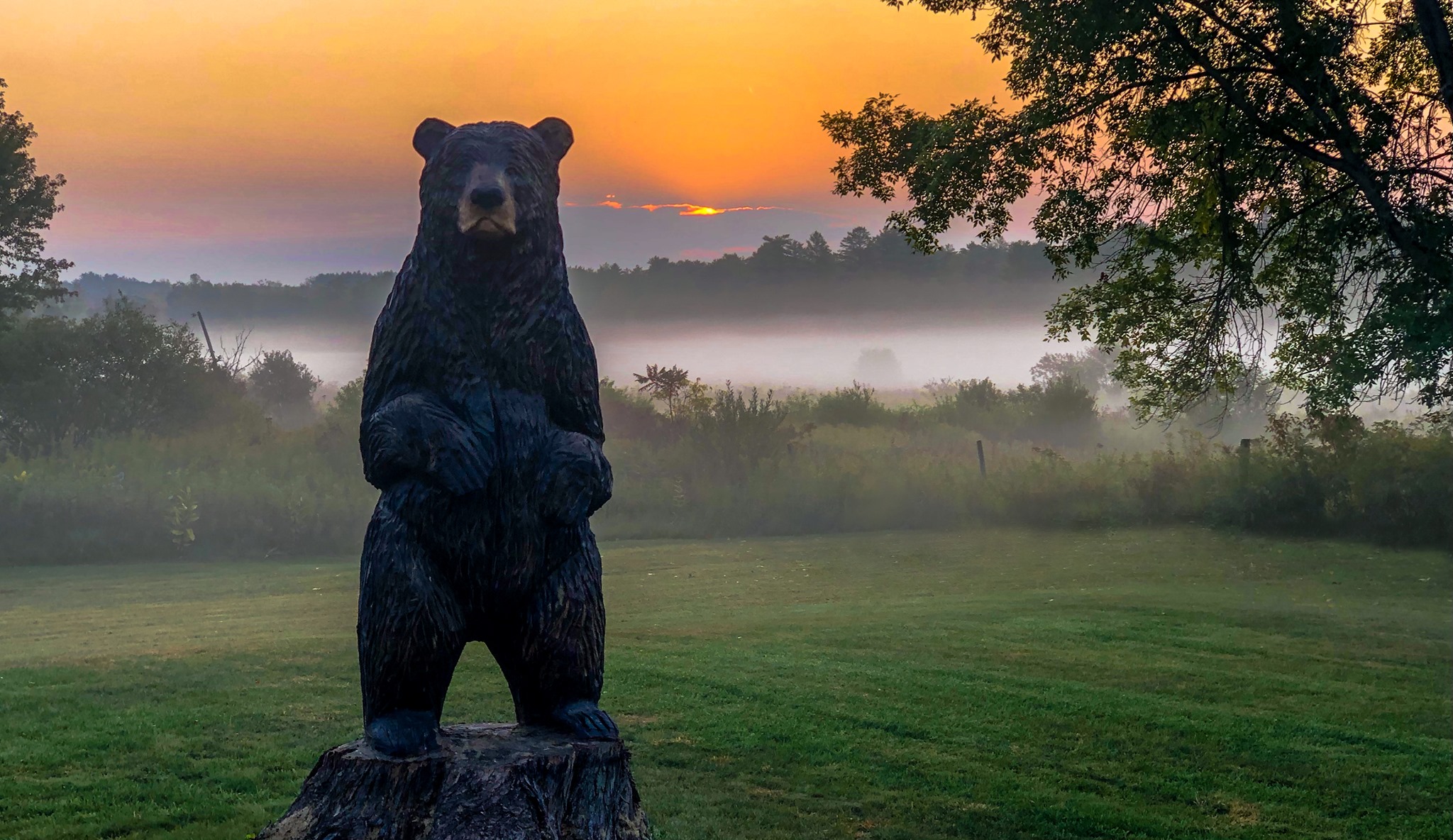 Dont't take our word for it – here's what our clients say:
Sara is an amazing artist and a wiz with a chainsaw. She is particularly careful with the finishing on her work, and produces remarkable sculptures!
I recently purchased 3 pieces from Sara. She is amazing. So very talented! I highly recommend catching up with her.
Lisa Gunderson Babb,
Maryland
I saw Sara at the Wood Festival at Grey Towers. She does amazing work! Check out her chainsaw artistry!
Ellen Silberlicht
Pennsylvania
It takes a lot of work to keep this family operation running, so it's always good to have a few hands to help out in the process.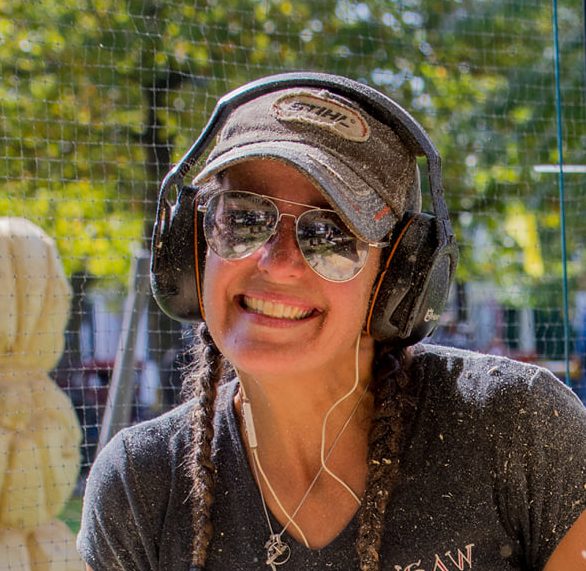 Sara is the creative genius behind the chainsaw. She's not afraid to get covered in sawdust and hands dirty in order to create.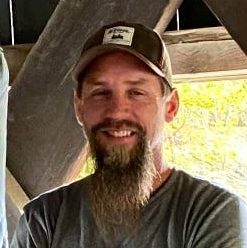 Sara's amazing husband, Jake, keeps all the saws up and running and helps Sara during some of her shows.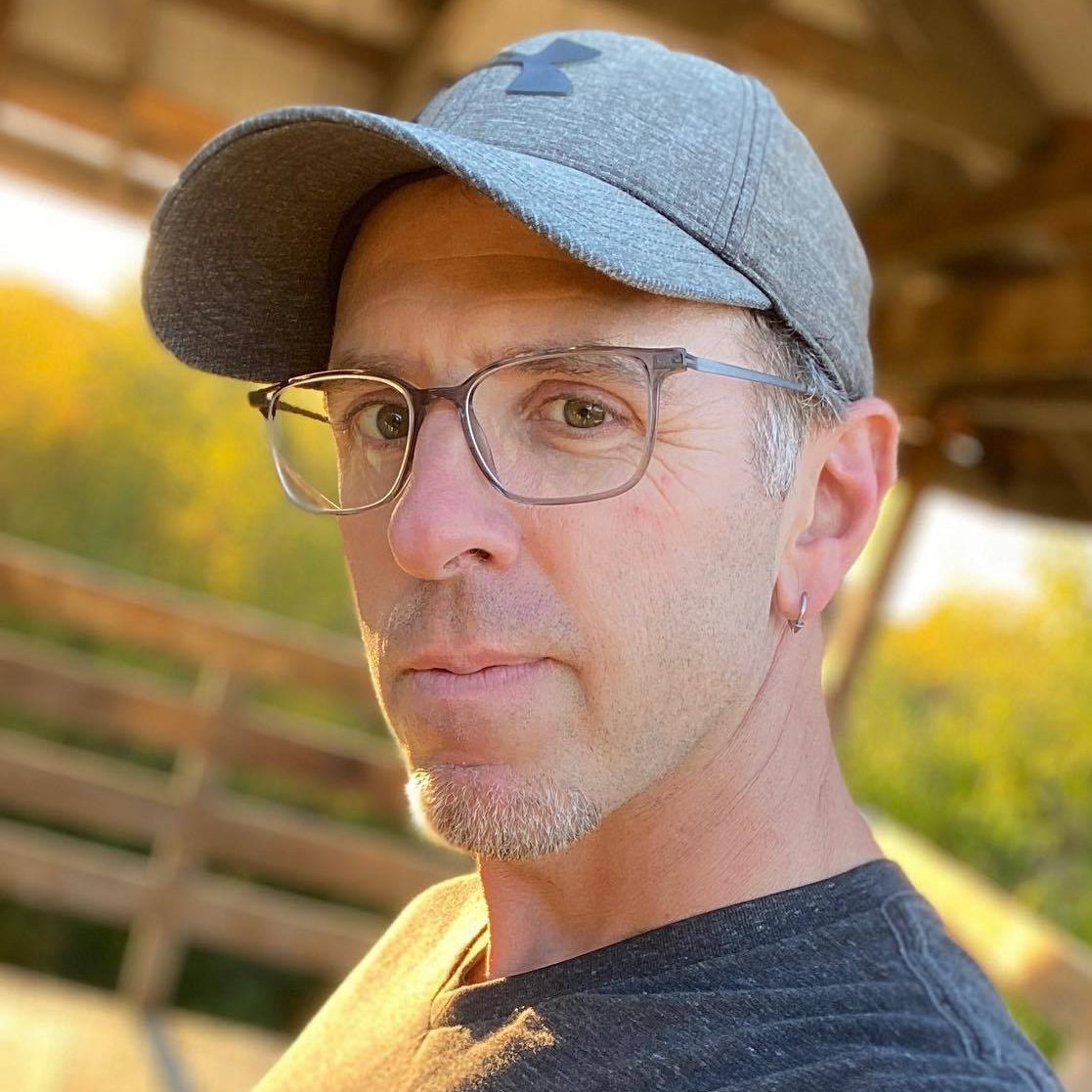 Sara's brother, Joshua, handles keeping the website up, taking photos at shows when he is in the area, and helping with anything Sara needs graphics-wise.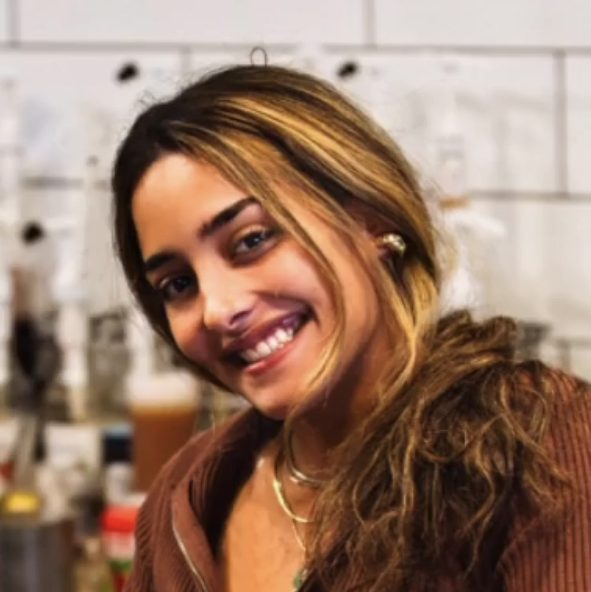 Sara's daughter, Rhea, helps with keeping the Instagram photos and stories updated and advising Sara on trends and what's new.

Here are some of the projects we have done over the years.

<!—-><!—->
<!—->
<!—->
<!—->
<!—-><!—->
<!—->
<!—->
<!—->
<!—-><!—->
<!—->
<!—->
Finished this 13′ multi-carving sculpture in May of 2017.
<!—-><!—->
<!—->
<!—->
<!—->
<!—-><!—->
<!—->
<!—->
<!—->
<!—-><!—->
<!—->
<!—->
<!—->
This 6′ sculpture of two wolves has a place in Sara's heart […]
If you are interested in having Sara come and carve at your festival or gathering, or if you would like a custom piece carved — either at your home or a freestanding sculpture — please get ahold of us today!

sara@northstarsculptures.com

We are located in the Adirondack Mountains in upstate NY